Nov 05, 2019 pm ET
Cebu's First Ever Baicon Infest 2019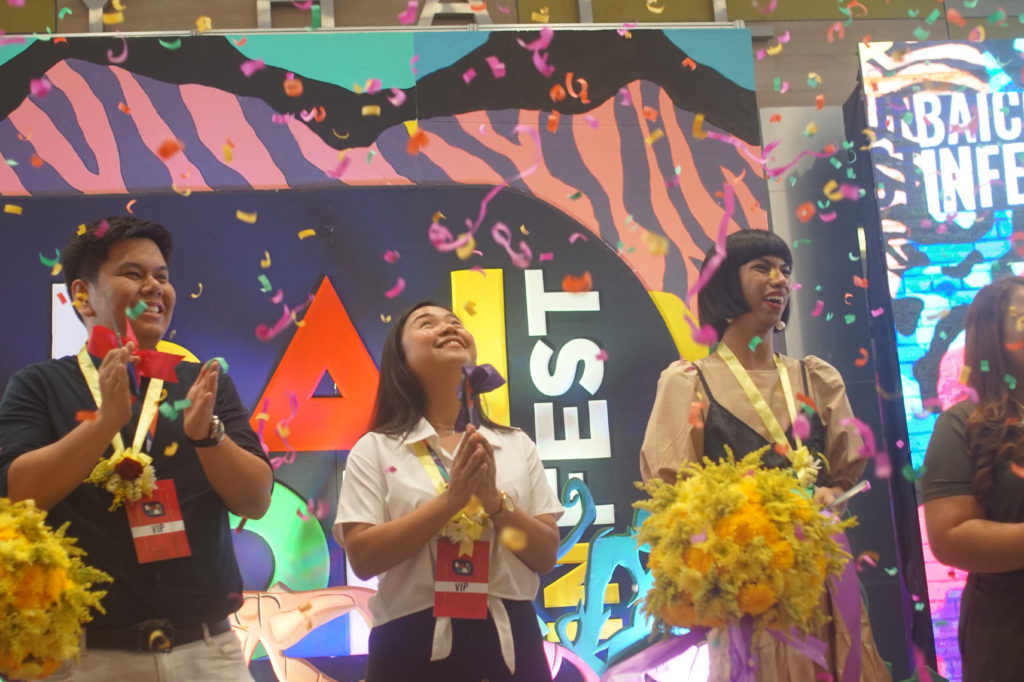 The highly-anticipated Baicon Infest 2019, the biggest gathering of content creators all over the country took place at the SM Skyhall, SM City Seaside in Cebu City last October 25-26 and it was attended by both established and aspiring social media content creators and influencers as well as their fans! The 2-day event aimed to expose today's local content creators to industry updates and trends, potential brand partners and of course, inspire and encourage small vloggers and Youtubers through skill and knowledge sharing, insightful keynote speeches and talks as well as fun-filled activities that highlight relevant and timely topics regarding vlogging and content creation.
No less than 60 social media content creators and influencers came to take part in the infestation and some of the hottest personalities were twins Wil and Haley Dasovich, Mikey Bustos, Erwan Huessaff, Mimiyuuuh, Cat Arambulo, Fynest China, Kimpoy Feliciano, Vern, and Verniece Enciso, Luigi Pacheco, Rozel Basilio, real-life couple Rei Germar and Migy Romulo, Kyo Quijano, Majo Lingat aka You Do Note, Daniel Marsh, mother-daughter Haidee and Hazel Quing, among others.
Day 1:
Registration kicked off at 10 AM followed by the opening performance of homegrown dance group, Undefined. Welcoming and acknowledging of the guests came next and Head of Social of Dentsu Aegis Network's Jim Guzman, gave the welcoming remarks and the rundown of the program and the schedule for Day 2. Andi Pateña gamely hosted Baicon Infest 2019 Day 1.

The ceremonial ribbon cutting to officially open the event was spearheaded by Kara Santiago of Spark It PH, Jim Guzman, Ace Gapuz of Blogapalooza, Bea Evardone, COO of Republiq Group of Companies, Bryan Yap, CEO of Republiq Group of Companies and of course, Social Media Star Mimiyuuuh who had her big entrance riding upon a mini-vehicle. Lunch, socials and booth visits wrapped up the first half of Day 1.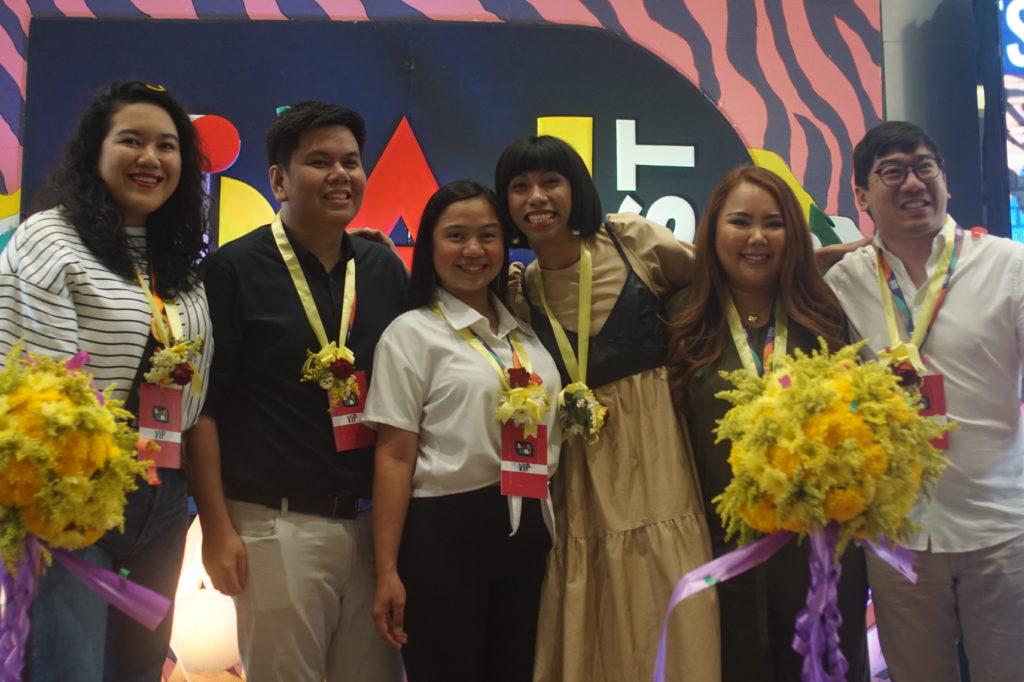 By 1PM, Archon Cebu, the biggest annual convention for hobbyist and tech enthusiasts started the afternoon fun with a cosplay skit starring Mary Catherine Codilla as Alice and Jolu Escano as Queen of Hearts. There was also a cosplay parade featuring Marvel characters, Iron Man, Spider-Man, two Black Panthers and a Zombie.
Next local talent to perform on stage was 22 Tango Records' Lourdes Maglinte who kept everyone in the mood with her powerful vocals. Cebu Pacific then took center stage for the brand activation.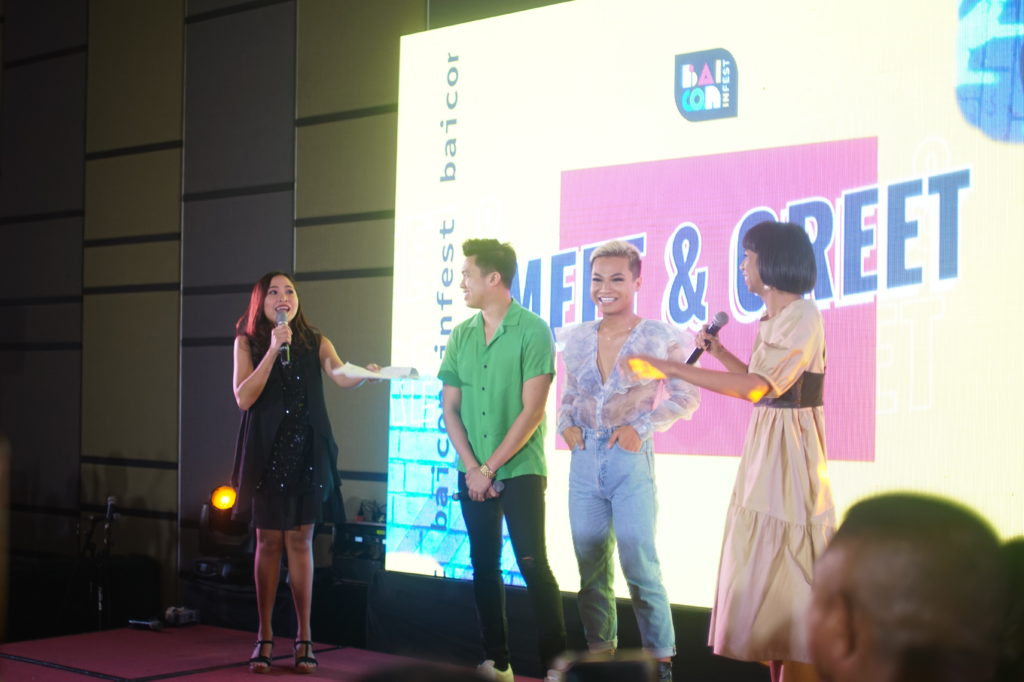 The celebration continued with the much-awaited phase 1 of the meet & greet wherein the first 100 registrants were given the rare opportunity to come up on stage and have their selfies and group photos with Mimiyuuuh, Kimpoy Feliciano and Fynest China.
Next program was the now notorious "Dalagang Pilipina Challenge" which was judged by none other than Dalagang Pilipina herself, Mimiyuuuh together with You Do Note girl, Majo Lingat and Gigil Kid, Carlo Mendoza. 6 lucky fans competed to win the ultimate challenge.
Another live performance was from the cast of Monsters The Musical who conquered the stage and served everyone with some vocal treats and a glimpse of their upcoming production which is slated to be on stage on November 16 and 17 at SM Seaside Centerstage.
Phase 2 of the meet & greet followed and fans mingled with Kyo Quijano, Luigi Pacheco, Rozel Basilio, Bogart the Explorer and Haidee and Hazel Quing on stage.
Content creators, influencers, local media and some guests gathered at Circa 1900 for the complimentary welcome dinner party with the theme, "Wild 90s". Vloggers and Youtubers had a blast and enjoyed the foods and drinks served before calling it a night.
Day 2: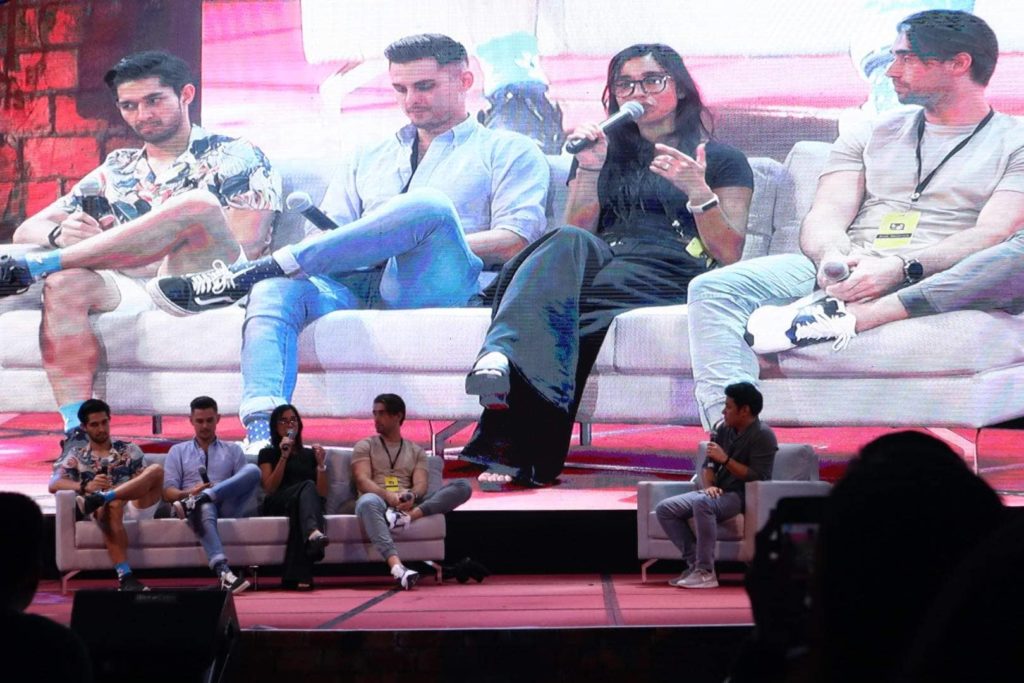 For the second and last day of Baicon Infest 2019, registration started as early as 7:30 AM. Registrants who purchased tickets and VIPs were each given a freebie loot bag full of goodies from the sponsors. Day 2 was hosted by content creators Gino Quillamor and Bogart the Explorer.
At around 10 AM, Day 2 officially begun with an opening performance from Cebu homegrown influencers and BAI TV talents, Alem Garcia and David Wilde X who wowed the crowd with their steamy dance showdown.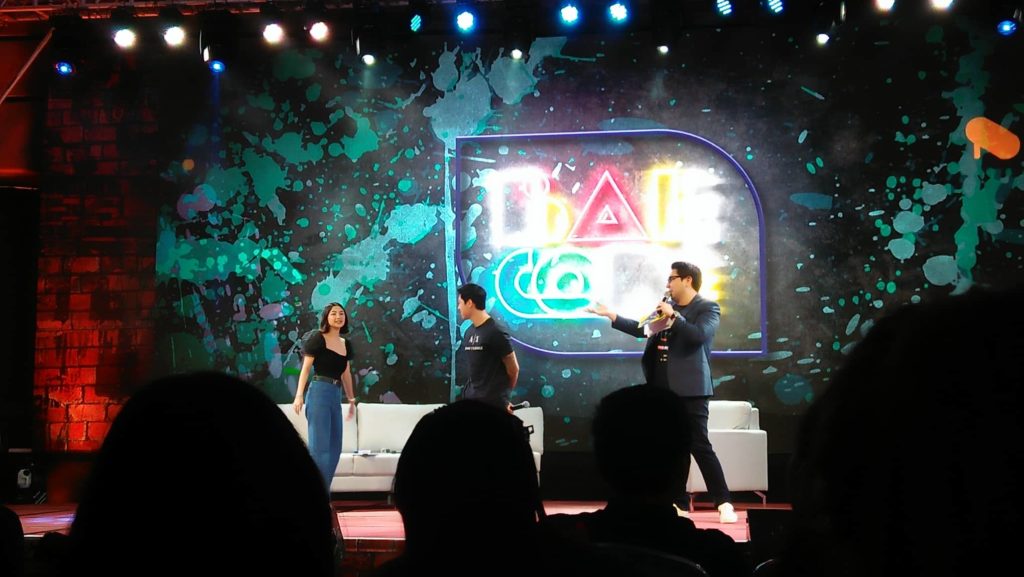 CEO of Dentsu Aegis Network Donald Jim and COO of Republiq Group of Companies, Bea Everdone then went up the stage to welcome everyone to the second and final day of the biggest gathering of influencers in the country.
Knowledge sharing was spearheaded by first keynote speaker, French-Filipino content creator Erwan Heussaff who has a Youtube channel with over 1.5 million subscribers and the man behind The Fat Kid Inside. Heusaff shared how he got into the world of content creation and answered some questions about relevance and sustainability.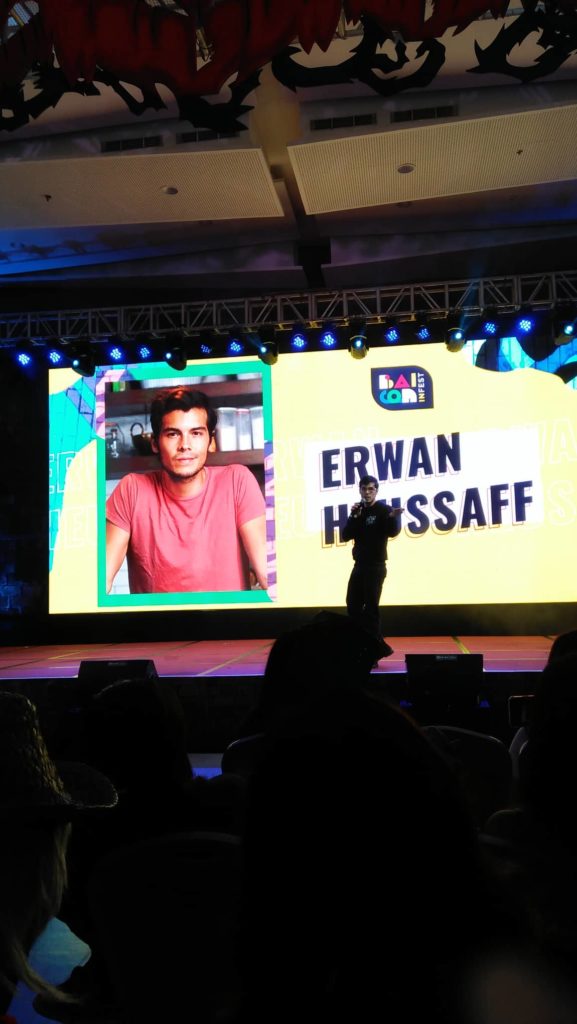 Kyo Quijano, Rozel Basilio, Luigi Pacheco and Kimpoy Feliciano of the Vlogkada were the next to entertain fans. The fun squad gamely played the popular Pinoy Henyo game where Luigi and his partner fan won an exciting price.
After lunch, the celebration resumed with another insightful talk about E-Sports and streaming wherein internationally-acclaimed professional e-gamers and commentators Marlon Marcelo and Dunno Pangan shared their valuable insights in the first part of Fireside chat.
Queen of Kitty Katkats and "EUT" singer, Alem Garcia, went back on stage together with Alonzo and Kesh to interact with the audience for the fun and challenging reenactment activity. 4 fans got the chance to be impromptu actors and actresses by copying some all-time favorite and iconic lines from Filipino blockbuster movies with Garcia.
Fashion, beauty, travel and lifestyle were the next topics discussed by vlogger sisters Vern and Vernice Enciso. The stunning Enciso sisters had also presented the first ever Baicon Royalty Best in Costume Award to a couple of lucky fans who stood out in their Halloween get ups.
Baicon Infest 2019 official airline partner, Cebu Pacific, came in next for their promotional slot and to officially announce the winner of the Next BAI TV Star and the lucky person was none other than travel vlogger, CJ Estrada.
Mother-and-daughter tandem of Haidee and Hazel Quing together with Cat Arambulo added fun and laughter to the event as they danced their hearts out to prove who's way cooler.
Real-life sweethearts Rei Germar and Migy Romulo had their own "kilig" moment on stage when they played a guessing game to determine how well one knows the other and the crowd went in a crazy "Sana all" (hopefully all) frenzy.
Amidst the excitement and merriment, a moment of silence was given to pay tribute to the late Franco Santos, a vlogger and content creator himself who was also known to the online world as FCO big boy. Santos was also given an achievement award in his honor for being one of the pillars of the industry by Head of Social of Dentsu Aegis Network, Jim Guzman. The award was accepted by Santos's sister Katrina Yulo Garcia.
Another giant in content creation, Wil Dasovich, who is a multi-awarded Filipino-American Youtuber with 2.22 million subscribers sat down on stage with producer and Youtuber Jako De Leon of PaperbugTV. Dasovich shared his travel escapades and vlogging adventures with De Leon and the crowd.
The in-depth conversation continued in the fourth and final part of the Fireside chat and Dasovich and the rest of the Vlogsquad namely Daniel Marsch, Bret Maverick and Dasovich's twin sister Haley, interacted with De Leon and the crowd, including everyone in the conversation. The foreignoy influencers also gamely answered questions from fans.
The next popular content creator to grace the event was none other than the viral internet sensation and the country's whimsical "LOcq4l j3j3 gHuÖrl" Mimiyuuuhh or Jeremy Sancebuche, in real life. Clad in his signature out-of-the-box fashion styling, the comical online personality went up the stage in a rather clumsy manner to his fans' delight. Sancebuche was accompanied by another hotly-followed social media celebrity, Mikey Bustos, popularly known for his over-the-top parody videos. Sancebuche and Bustos sat down for their totally entertaining and inspiring talk show. Indeed, save the best for last.
Dentsu Aegis Network's CEO Donald Lim gave his closing remarks and launched Baicon 2020 and the Creator and Influencer Council of the Philippines as BaiCon InFest 2019 concluded. All content creators and influencers gathered for the epic groupie and fans later joined them on stage, mobile phones and video cameras in tow.
Cebu's homegrown band, The Sundown, took over and started the after-party with their lit performance while one of the event's major sponsor, Emperador Light, offered free drinks to everybody.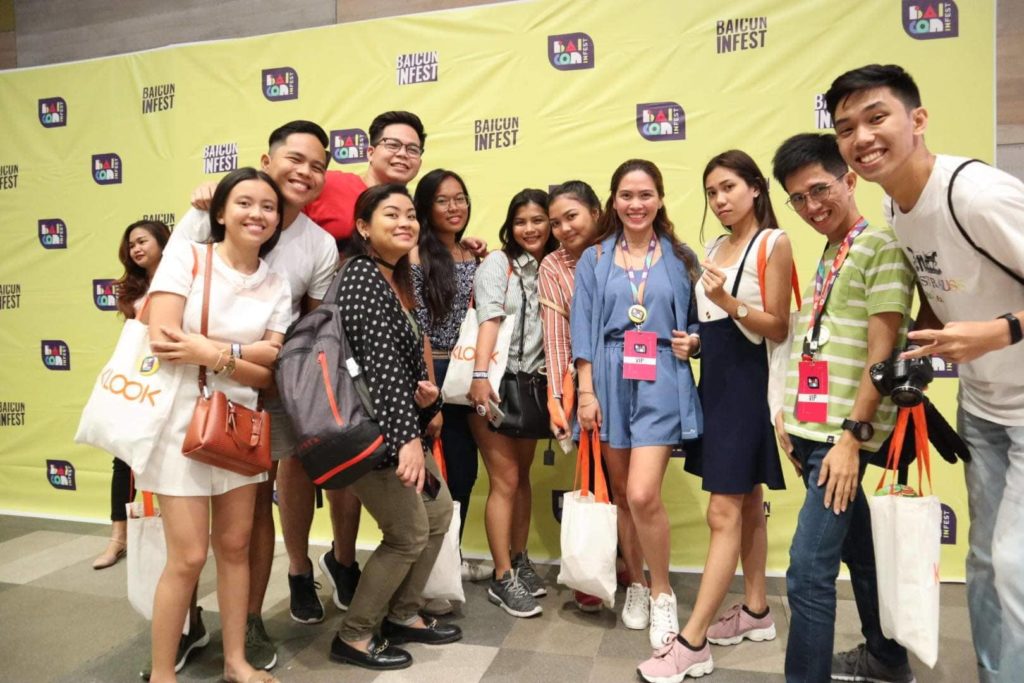 Baicon Infest 2019 Cebu event was made possible by Dentsu Aegis Network, RGC, BAI TV, Spark It, Blogapalooza, Ark Digital, Digistar Ph; Presentor, Royal Tru-Orange; Official airline partner: Cebu Pacific; Official venue partner: SM Seaside City Cebu; Official PR Partner: Bigseed Public Relations & Events; Industry partner: MET Events; Community partners: Cebu Fashion Bloggers, Cebu Bloggers Society and Cebu Content Creators; Hotel partners: Bai Hotel Cebu, Bayfront Hotel Cebu, BIG Hotel, Marco Polo Plaza Cebu, Mezzo Hotel;
Major Sponsors: Emperador Brandy, Islands, Klook, Sky Fiber; Minor sponsors: Mactan Cebu International Airport (MCIA), Mandaue Foam, Rico's Lechon; Media partners, Sunstar, Y101FM;
Special thanks to: The Company, A Space, No. 9, Circa 1900 and Wallnut Ph.
comments are temporarily disabled.