Nov 05, 2020 pm ET
CCCI Business Dialogue Episode 3 tackles on Severely Impacted Businesses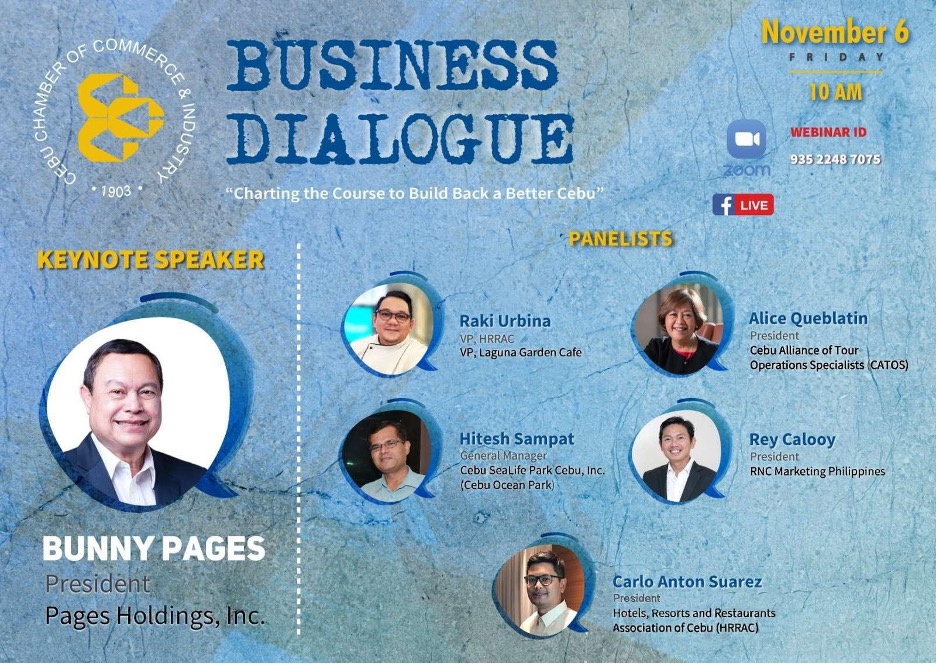 With the conclusion of the first two episodes, the Cebu Chamber of Commerce and Industry (CCCI) gears towards the last installment of its 3-episode general membership business dialogue series as it takes on discussions involving the "Severely Impacted Businesses" on November 6, 2020 at 10:00 AM via Zoom.
Episode 3 will feature well-known businessman and Pages Holdings, Inc. President Bunny Pages, Jr. together with panelists Laguna Garden Café Vice President Raki Urbina, Cebu Alliance of Tour Operations Specialists (CATOS) President Alice Queblatin, Cebu Ocean Park President Hitesh Sampat, RNC Marketing Philippines President Rey Calooy, and HRRAC President Carlo Suarez.

The session taps on the meaningful experiences of the so-called "Severely Impacted Businesses" which includes Hotels, Restaurants, Travel & Tours, Entertainment and MSMEs and how they navigated through this pandemic.

CCCI general membership business dialogue will be hosted by CCCI External Affairs and Relations Vice President Lilu Aliño and moderated by CCCI Treasurer Aldie Garcia.
For more information visit the CCCI Facebook page or send an email to joy@cebuchamber.org/karen@cebuchamber.org.

comments are temporarily disabled.