Apr 07, 2022 pm ET
BBM-Sara Celebrity All-Star to dazzle Cebu fans in Next Gen Hoops
A bunch of showbiz personalities led by the father-and-son tandem of Cesar Montano and Diego Loyzaga will treat the Cebuano fans to a highly entertaining hardcourt action as they suit up for the BBM-Sara Celebrity All-Star against a selection of former collegiate standouts in an exhibition game that will usher in the Next Gen Hoops for Youth at the Cebu Coliseum tomorrow, April 8, 2022.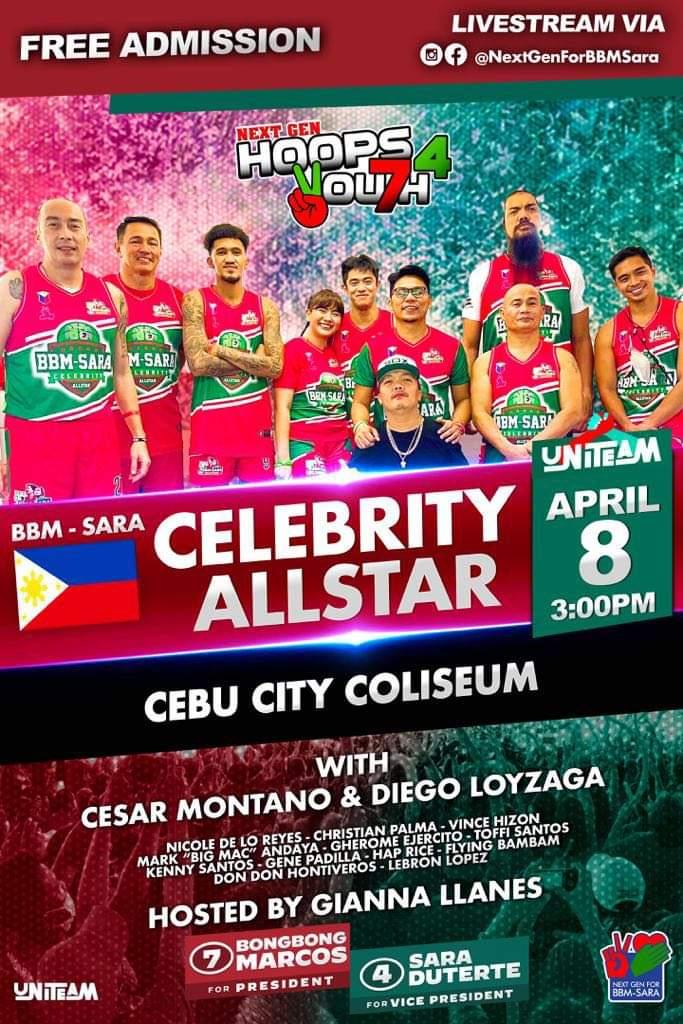 Montano, a multi-awarded actor and director who starred in various blockbuster movies such as Rizal, Muro-Ami and Bagong Buwan among others, and his son Diego Loyzaga, a member of the male group Kapamilya Cuties that topbill some popular TV shows including Death of a Girlfriend, Encounter, Petmalu, Los Bastardos, Pusong Ligaw, Bloody Crayons and more, will flex their hoop skills in the fun-filled event at 3 p.m. that is FREE to the public.
The BBM-Sara Celebrity All-Star squad also features Nicole De Los Reyes, a professional basketball player at WNBL known as the Queen of the Court and Lady Mamba ng Pinas, YouTuber/Vloggers Mon "Flying Bambam" Palaña and Christian Palma, and comedians Gene Padilla and Darwin "Hap Rice" Tolentino.
They will see action alongside ex-PBB Housemates and Star Magic talents Kenny and Toffi Santos, and League of Municipalities in the Philippines (LMP) President Christian Singson, who is also the First Nominee of Ako Ilocano Ako Partylist, Completing the BBM-SARA Celebrity All-Star lineup are Cebuano basketball icon Dondon Hontiveros, who is currently the vice mayor of Cebu City, former PBA players Vince "The Prince" Hizon, Mark "Big Mac" Andaya, and Gherome Ejercito, and Gilas Pilipinas member Lebron Lopez.
They will be going up against the ex-CESAFI cagers bannered by Shaq Imperial, Miguel Gastador, Dyll Roncal, John Lucena, Winston Perez, Roy Quiachon, RJ Dinolan, Renzo Galdo, Jerick Canada, Eroll Pastor, Terrence Francisco, Jayson Balabag, Kirby Bersaluna, Jonathan Manalili, and Mark Sanchez.
Before proceeding to the Cebu Coliseum, the BBM-Sara Celebrity All-Star will be having a motorcade along the city's main thoroughfares. They will then hold a brief meet-and-greet session with their fans on a first-come, first-served basis. Aside from flaunting their athletic skills, they will also perform some numbers for the audience during breaks.
In the preliminary match at 3 p.m., the Hontiveros-led Fighter Wine will square off against ARQ Sports.
Meanwhile, basketball history will be made both in Central and Western Visayas this weekend when the actual Next Gen Hoops battle begins on Saturday, April 9.
For Cebu alone, a total of 60 teams will be seeing action in at least 12 playing venues spread all over the province.
"After two years, basketball is back! This time, 5×5 na talaga," said Next Gen Hoops tournament director coach Jerry Guzman Abuyabor. "I'm excited because this is one of the biggest basketball events to be in Philippine history sports book kasi parang wala pang nakakagawa nito. We will be utilizing 24 courts with a total of 120 teams playing more or less 240 games at the same time and same league in two days. 120 teams, two regions, one champion."
comments are temporarily disabled.