Oct 19, 2019 pm ET
B-Pop Acapella Challenge More Promising On Its 2nd Year
Photos by: Iste Sesante Leopoldo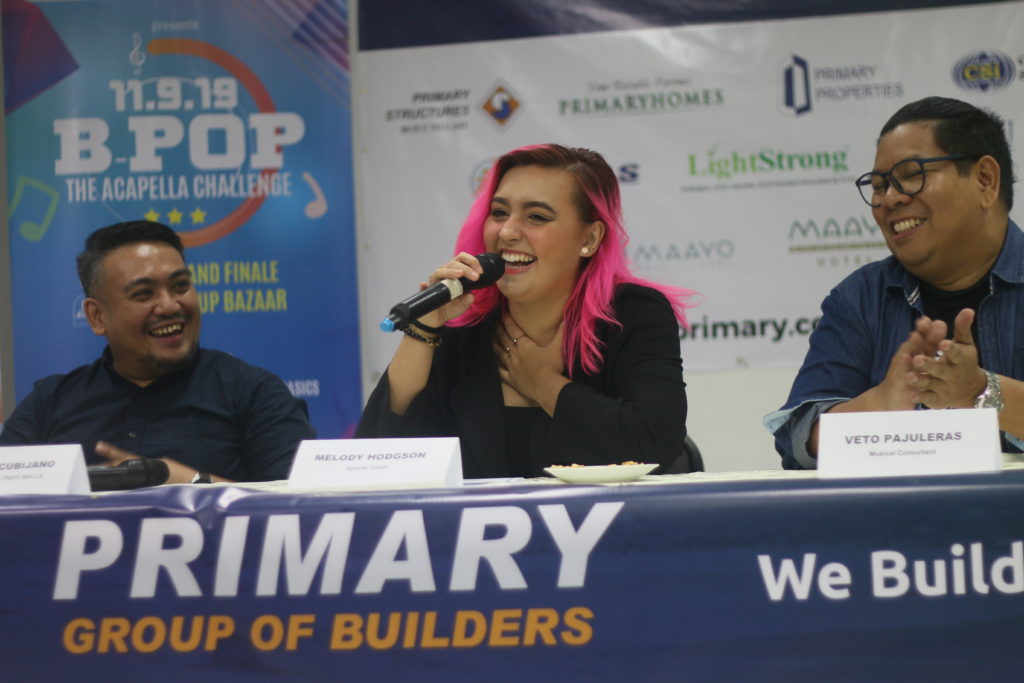 Following the success of last year's B-Pop (Bisaya Pop) ACapella Challenge, this local singing competition that features Visayan music and artists continues this year with top 3 finalists namely The Basics, The Arkapella and Primiero and Impromptones who will be contending for the much-coveted Grand Champion Award which was previously won by Vox Anima. The finalists were selected during a live elimination round last July 13th at the SKILLS multipurpose Hall.
Last October 15, event organizers consisted of PSEFI SKILLS President Paulette D. Liu, PSEFI SKILLS executive Director Jessie M. Cubijano, Musical Director Veto Pajuleras, Gian Lawrence, member of Vox Anima, and special guest artist, Melody Hodgson arranged a press conference that was held at SKILLS campus (formerly Sacred Heart School for Boys) in General Maxilom Avenue, Cebu City, and they led the discussion about this year's B-pop Acapella Challenge, its objectives, future plans and of course, its highlights.
The B-Pop Acapella Challenge is a fundraising program created by the Primary Group of Builders for the benefit of SKILLS in cooperation with their various sponsors and donors that aims to raise money through the proceeds of the purchase of the tickets that are sold at 500 pesos each, which will then be used to provide more scholarship programs to the students of SKILLS. "Through our previous events, we were able to raise around Php500,000. This amount was able to help 30 students study at SKILLS for free. We hope to raise more this year so that we can provide for more scholarships through our foundation." said PSEFI-SKILLS foundation's COO, Mrs. Paulette D. Liu.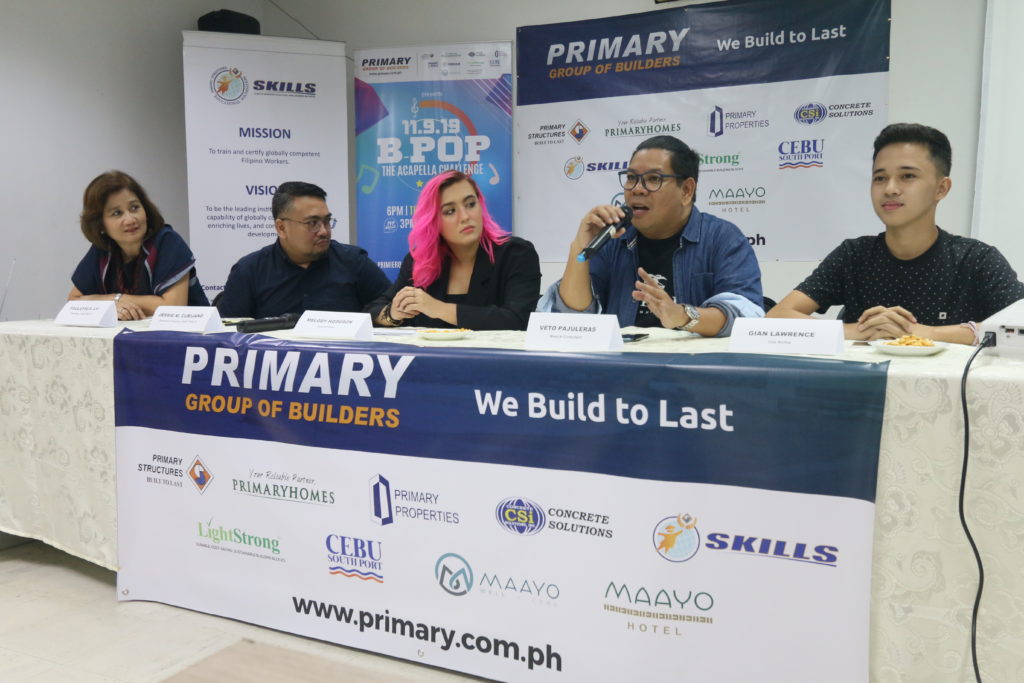 Aside from the scholarship, the organization also hopes to recreate the success of their first-ever grand champion, Vox Anima. "We are so proud of what has become of Vox Anima, and we are happy that our competition helped open up more opportunities for them. We'd like to help them by providing a venue where they showcase these talents," continued Liu.
Melody Hodgson, whose hit single "Hahayy" recently won Awit Awards for Best Regional Recording was offered to join this year's concert for a cause by Jeo Lebrando, whom she's worked within her music career. "Jeo contacted me a while back and asked me if I'd be available to guests in the event. I decided to take the offer because I wasn't really busy when he asked, and apparently November 9 is my birthday and I think it's an awesome thing to sing on my birthday," she said with a good laugh.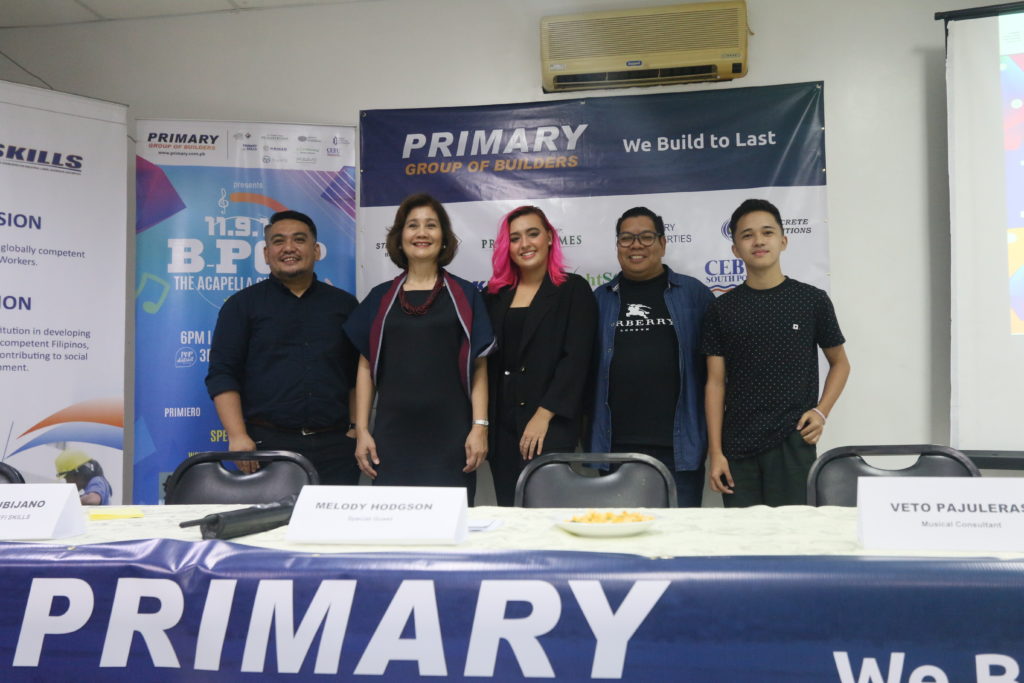 Hodgson has been very active in promoting the Visayan music and she admitted to be honored and privileged to take part in the event. "There's just something very expressive about our Bisaya dialect which makes it unique. If you apply that in music, time seems to stand still. I'm just proud that I'm able proud to represent Visayan culture through my music." Hodgson, together with other special guests namely Wonggoys, Jerika Teodorica, Johnel Bucog, Gerlyn Abaño will be having special performances. Hodgson's "Hahayy" can now be streamed in various online music platforms such as Spotify and iTunes.
For his part, member of last year's grand champion Vox Anima Gian Lawrence, said that B-Pop Acapella Challenge helped his team in a lot of ways. "I must admit that we hoped to win but didn't really expect that it would actually happen. In fact, we were all shocked when we finished as the champion and took home the grand award. Personally, I'm happy that my team won because we got to be exposed to more activities that really help us take our craft to the next level." Meanwhile, Vox Anima's conductor, Rodolfo Delona, encouraged this year's competing groups to never be afraid to be out there and be different.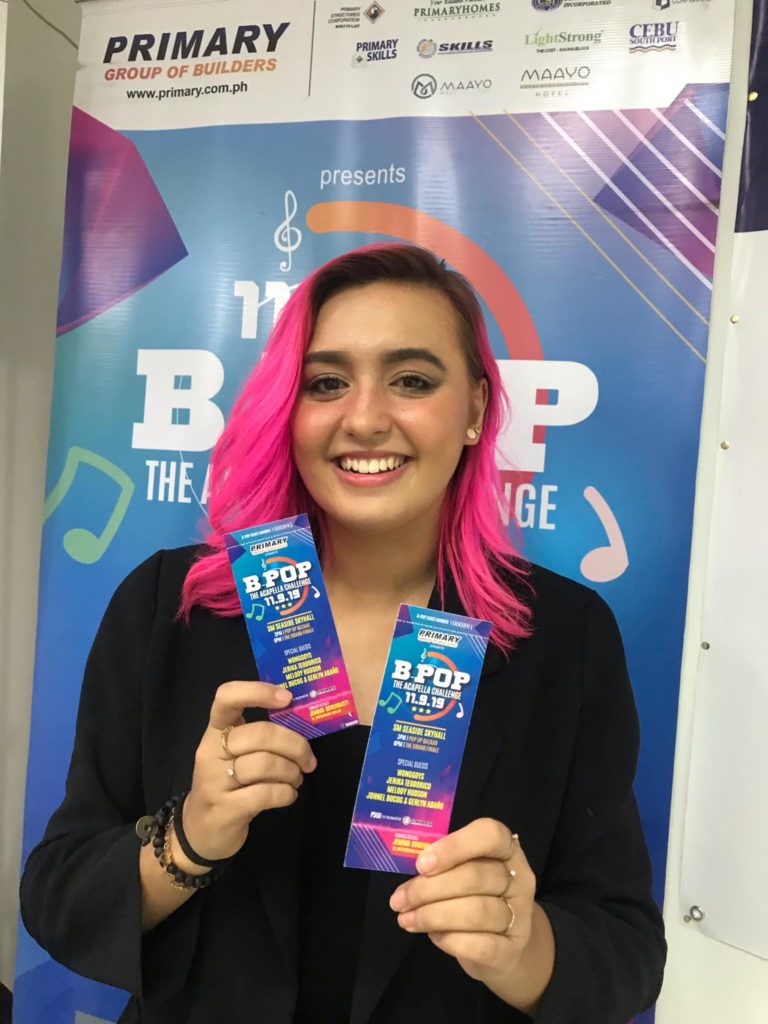 All three finalists of B-pop Acapella Challenge 2019 were each given a record deal for a Christmas album which is set to be released through Spotify and Youtube during the finals on November 9. The grand champion will receive Php50,000 in cash, a trophy and guesting contracts with Primary Group of Builders which is also worth php50,000.
Another exciting reason to attend the ACapella Challenge and concert for a cause is the Pop District Bazaar which is a combination of different bazaars that showcase artworks, handicrafts and a lot of other goods that celebrate and showcase the Cebuano talent.
B-Pop Acapella Challenge and Pop District Bazaar are presented and made possible by Primary Group Of Builders: PrimaryHomes Inc, Concrete Solutions Integrated, Primary Properties Inc, Cebu South Port, Light Strong, Maayo Well And Maayo Hotel with Bronze sponsors: Ramagal Door & Sash Manufacturing, Union Galvasteel, VIC Enterprises, Wood Classics, Boysen and Cebu Steel; and Donors: Regan Industrial Sales Inc., Mactan Grains Terminal and Bibo Management.
Gates will be open at 3:00 PM with Pop District Bazaar and program will start at 6:00PM on November 9 at the SM Seaside City Sky Hall.
comments are temporarily disabled.